Everybody has the gene 5-methyltetrahydrofolate reductase, which is also known as MTHFR.
MTHFR is an enzyme that plays a key role in the metabolism of folate, a B group-vitamin essential for many bodily functions such as DNA synthesis and repair, proper cell division, and the production of red blood cells.
The MTHFR gene is responsible for converting the type of folate we consume to create the type of folate our body uses. A lack of this usable folate can result in some health conditions and disorders. A malfunctioning less functional variation of the MTHFR gene can lead to lower levels of usable folate and add to this risk. You can be tested for the MHFR gene variation but this testing is not routine despite that it is also not uncommon to test positive to this malfunction. These gene changes can result in a reduction from 100% activity to between 86% all the way to 18% activity depending on the gene variation. A positive test can mean you are susceptible to a number of risks, including recurrent pregnancy lost and early stage miscarriages.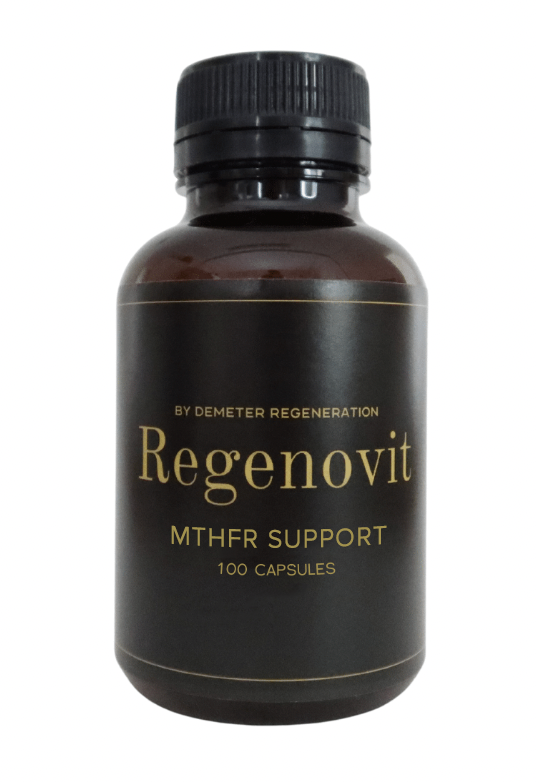 Whilst there is no cure for these MTHFR gene variations, there are very straight forward approaches with monitoring essential that you can undertake to support your pregnancy journey and reduce the risk of miscarriage, pre-eclampsia or your future child's genetics.
Demeter Fertility manages patients with MTHFR variations with different approaches depending on the symptoms, test results and outcomes associated with the diagnosis and your treatment.
So, finding out that you have an unhelpful MTHFR polymorphism, isn't the end of the world. Check your homocysteine and get onto the right supplement for you. Remember this super important note! It's not just the presence of the gene, it's also the variation of the gene, and the exposure in a person's lifestyle that determines any potential effect on how well your cells are working.